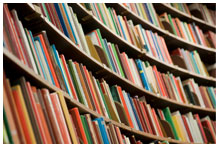 Suggested Reading about Physical Health Problems
Sick and Tired of Feeling Sick and Tired: Living with Invisible Chronic Illness by P. Donogue, and M. Siegel.  
 
Man's Search for Meaning by V. Frankl.
 
In Search of the Sun: How to Cope with Chronic Illness by H. Aladjem.  
 
The Illness Naratives, Suffering, Healing and the Human Condition by A. Kleinman.
 
Full Catastrophe Living: Using the Wisdom of Your Body and Mind to Face Stress, Pain, and Illness by Jon Kabat-Zinn.
 
Arthritis Help Book: A Tested Self-Management Program for coping with Arthritis and Fibryomyalgia by K. Lorig.
This popular guide to coping with chronic pain contains many useful chapters on proven techniques to reduce pain; tips and gadgets that solve common problems and how to overcome fatigue, depression, and other troubling feelings associated with pain.
 
Living with Fibromyalgia by C. Craggs-Hinton.
Written by someone who has learnt to manage fibromyalgia in order to share their experience and knowledge with others. Contains a great deal of practical help written in a down-to-earth way. Also useful for family and friends to help them understand the condition.
 
Overcoming Chronic Pain: A self-help guide using cognitive behavioural techniques by F. Cole.
An evidence based and clinically proven approach to pain management. This book has chapters to aid understanding of chronic pain and using medicines better as well as comprehensive guidance to enhance self-management.
 
Coping successfully with Pain (Overcoming common problems) by N. Shone.
Written by someone living with chronic pain, as the title suggests, this book provides information and advice on how to cope with pain, become more active and improve your quality of life.
 
The Chronic Pain Diet Book by N. Shone.
Developed following many years of research by the author who lives with chronic pain, this book details the link between food sensitivities and pain. It looks at how certain foods may aggravate pain and suggests a combination of foods and recipes which the author suggests may reduce pain and help improve levels of health and activity.
 
Explain Pain by Moseley L. & Butler D.
With clever illustrations and simple language this book makes the complex science of pain easy to understand. Highly regarded by health professionals it provides knowledge about the origins and meanings of pain and how body systems cope and adapt. This knowledge can help conquer fears and enable people to pace themselves back into normal life.
 
Living a Healthy Life with Chronic Conditions by K. Lorig.
Based on the results of an influential research study this book is packed full of all the information you need to develop your own self-management plan and live a healthy life with chronic pain. Includes advice on working effectively with health professionals and discussing pain with family and friends.
 
Living Well with Pain and Illness: The Mindful Way to Free Yourself from Suffering by V. Burch.
A well written and practical introduction to the benefits in well being that can be gained through the practice of mindful meditation. The author communicates in a compassionate and thoughtful way how she has used these techniques to transform her own experience of living with chronic pain.
 
Overcoming Insomnia and Sleep Problems by C. A. Espie.
With clear step-by-step techniques this practical book introduces the reader to well established cognitive behavioural techniques that have been shown by research to improve insomnia and sleep problems without side-effects.