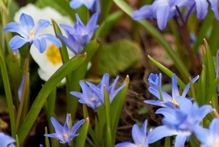 Coronavirus - Healthcare Worker Information
Looking after yourself: supporting resilience and wellbeing in health and social care workers
Many health and social care workers are likely to feel stressed and under enormous pressure during this outbreak – this is perfectly natural and indeed is a reaction to a very abnormal set of circumstances.
The document, NHS Fife Staff Wellbeing during COVID-19 please  click here provides guidance for NHS Fife staff about local support available and suggests some easy-to-follow practical suggestions for coping at this difficult time.  There is also a section with FAQ
Useful Posters
The following graphics illustrate the above ideas and may be worth bearing in mind or printing out and putting up a copy in your place of work.
Stress Coping & Resilience please click here
"Going Home Checklist" - please click here  a poster which can be used to encourage reflection and mindfulness at the end of a working day.
We highly recommend watching the video  (see External Resources section) 'Coping with stress associated with COVID19: advice to all hospital staff'.  It is a message from doctors, psychologists and researchers who are experts in trauma and are part of the COVID Trauma Response Working Group."
Please look at the resouces on the right under self help documents, external resources and also check the Coronavirus & Wellbeing section.