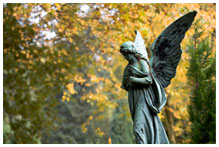 Bereavement
There is no one way to cope with the feelings any of us has after the death of someone close to us. We all feel differently and we all cope in different ways. You might feel quite isolated. You could possibly think nobody else has felt the same way as you do. These are some of the feelings or physical reactions you might be experiencing:
Death of a loved one
FEELINGS

 

PHYSICAL REACTIONS

Guilt

Relief

 

Tiredness

Unreality

Panic

 

Jumpiness

Shock

Confusion

 

Sleeplessness

Anger

Fear

 

Numbness

Calmness

Sadness

 

Tearfulness

Loneliness

Bitterness

 

Lack of concentration

Anxiety

 

 

Tension in different parts of the body
These feelings and physical reactions are very common. You may not experience some of them at all. Others may stay with you for a long time. You are likely to go through different emotions at different stages after the death of a loved one.
Please see the Resources on the right for more information on loss and coping with bereavement.