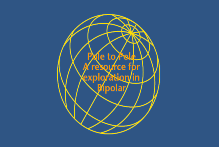 Pole to Pole
This page contains Pole to Pole resources for use by practitioners. These resources are suitable for individuals with extreme high and low moods or bipolar disorder and their family, friends and carers.
This can be printed off and filled in by individuals interested in attending the groups.
Printed copies of this leaflet are available from the Pole to Pole team. Please contact fife-uhb.PoletoPole@nhs.net.
Pole to Pole Resource Pack - this is designed to compliment the Pole to Pole groups. Spare downloadable copies are available below: