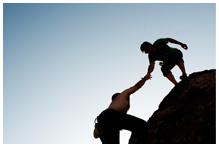 Older People
National Helplines and Websites
Age Scotland: This is a national voluntary organisation with the primary aim of improving life for all older people in Scotland.
Website: Age Scotland
Helpline: 0800 12 44 222 
Good Morning Service: Provide a free telephone alert and befriending service to older people aged 60+. Available in Ayrshire and Glasgow only.
Website: Good Morning Service
Tel:  0141 336 7766 or 0333 101 0036
Meal Makers: helps people share extra portions of home-cooked food with others in their area who are not able to cook for themselves.
Tel: 0141 551 8118

Groups and Services in Fife
Age Concern Glenrothes: Befriending Service provides opportunities for socially isolated older people to engage with a befriender to participate in their chosen interest or activity within a supportive and friendly environment.
Tel: 01592 756316
Contact the Elderly: help people aged 75 or older. If they are lonely, live at home on their own and are unable to easily get out of the house unaided.  Small local groups use volunteer drivers who each pick up 1 or 2 elderly people from their own homes. They take them to the home of a volunteer host where the volunteers and older people spend a few hours together with afternoon tea, usually on a Sunday.  Each group normally meets once a month, welcomed into the homes of different hosts. Groups are held in Dunfermline, Glenrothes, St Andrews and Dalgety Bay.  Please contact local development officer for more information.
Tel: 0800 716543
Website: Contact the Elderly
East Neuk Frail Elderly Project: The East Neuk Befriending Service matches people 65years of age and older who live alone who have very few or no visitors with a volunteer befriender who will visit on a regular basis provide friendship with the aim to improving their quality of life.
Tel: 01333 311837
Fife Carers Centre: Provides information, advice and support to carers across Fife.
Tel: 01592 205472
LEAD-Scotland: Fife-wide befriending service for adults and older adults who are isolated and lonely. 
Tel: 0131 228 9441
Helpline: 0800 999 2568
LinkLiving
: LinkLiving provides a volunteer befriending service in West Fife in order to reduce isolation of older people improve their social networks and enhance support for one another, focusing on those who are affected by physical or mental frailty and will provide person-centred befriending support both in people's homes and in their communities with the provision of two weekly social cafés to be held in community venues in West Fife.
Tel: 0330 303 0302