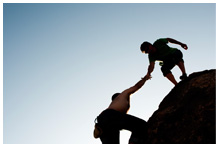 Mental Health
National Helplines

Breathing Space:  Breathing Space provides information and support for anyone experiencing low mood or depression or who is unusually worried. It also provides help for family members, partners and friends who are concerned about their own well-being and that of people they care about.
Helpline: 0800 838587 (Monday-Thursday 6pm-2am; Friday-Sunday 6pm-6am)
Website: Breathing Space
SANE Mental Health Helpline: SANE runs a national, out-of-hours mental health helpline offering specialist emotional support and information to anyone affected by mental illness, including family, friends and carers.
Helpline:  0300 304 7000 (Open every day of the year from 6pm to 11pm)
Website: SANE
Combat Stress: Combat Stress's helpline provides confidential help and advice on any mental health issue to the military community and their families.
Helpline: 0800 138 1619 (24 hr)
Groups and Services in Fife
Contact Points: Barony Housing Associations Contact Points provide open access community-based day services that aim to promote and maintain good mental health within the community. They offer emotional, social and practical support.
Based in Kirkcaldy, Buckhaven and Edinburgh (but open to all people with mental health problems)
Telephone: 0345 140 7777
Website: Barony Contact Points
Express Group Fife: Express Group Fife is a self-help social group for individuals over the age of 18 with mental health problems. The aim of the Groups is to give opportunities for self-help social activities, outings and holidays; and to provide a place where members can share experiences, and offer mutual support.
Tel: 01592 654331         Website: Express Group Fife
Fife Hearing Voices Network:  Fife Hearing Voices Network provide support to people who hear voices from anywhere in Fife. Groups meet throughout Fife which give people the opportunity to meet others and share experiences and strategies in a safe confidential environment. Time limited 1:1 support is also offered for individuals who may find attending a group difficult.
Tel: 01592 267771 (Monday to Friday 9am - 4pm Answering machine at other times)
Website: Fife Families
Fife Boomerang Association: Fife Boomerang is a service for individuals between the ages of 18-65, of all abilities, who are experiencing mental health difficulties. The aims are to promote outdoor pursuits and to encourage personal growth and development through outdoor pursuits. The Association offers a seasonal programme, four times a year, of outdoor activities.
Tel: 01592 775650 (Monday to Friday 9am and 1pm)
Email: fifeboomerang@yahoo.co.uk
Going Forth (SAMH) : Going Forth deliver a range of 2 hour workshops (over 14 weeks) called "Tools for Living".  this is in a group setting to support people with their mental health and wellbeing.  Going Forth offers the opportunity to get together with others to:
Hear about successful approaches : Learn from each other : Introduce strategies to make positive changes.

Tel: 01383 623179           E-mail:  goingforth@samh.org.uk
LINK (East Fife Mental Health Befriending Project): This service is designed to help people who have become lonely due to a mental health problem. The project supports adults and young people in the East Fife area who are already known to a Statutory Worker but who would benefit from additional support to use ordinary social and community resources and activities.
Website: LINK  - East Fife Mental Health Befriending Project
Peaceseekers: Peaceseekers is a spiritual project aiming to help those experiencing stress, depression or anxiety. The project runs a number of groups to offer people support with emotional and spiritual difficulties and also have facilities for people wishing to run their own groups or meetings.
Tel. 01333 352187          Website: Peace Seekers
Peer Support Fife: The Peer Support Fife website continues as a news resource and archive of activities on peer support and peer led alternatives in mental health.
Website: Peer Support Fife
Penumbra Self Harm Project: The Fife Self Harm Project provides a non-judgemental, young people friendly and user led support service to young people (18+) who self-harm. We also explore the needs of family, carers and professionals in contact with young people who self harm.
Tel. 01383 747 788
Website: http://www.penumbra.org.uk/services-locations/fife/self-harm-project-fife/
Click here for Penumbra Self Harm Project Leaflet
Penumbra Supported Living: Penumbra's Supported Living services offer support to people across the Fife area who are living in their own home.
Website: Penumbra supported living
Real Connections: Community Project based in Kirkcaldy that offer a range of activities to those that have experienced mental health difficulties. Activities include basic IT skills, arts and crafts, photography. Befriending to help people access meaningful activities is also offered.
Tel: 01592 644048           Website: LinkLiving
Scottish Association for Mental Health National Information Service: SAMH Information and signposting on general mental health enquiries and signpos you to your local services        
Tel: 0141 530 1000          Website: SAMH