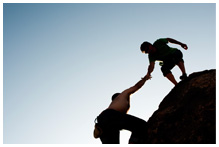 Ethnic Minority Services
Groups and Services in Fife
Fife Migrants Forum:  Provides free advice and support to the local migrant community. They offer a daily advice clinic covering a wide range of topics and links to other community services.  They run regular clinics with visiting advisors from Citizens Advice and Rights Fife, and a weekly job club.  Fife Migrants Forum also helps service users to stay in touch with events in the local area and can help with access to English classes and IT classes when available.
Tel: 01592 642 927
Website: Fife Migrants Forum
FRAE FIFE: Fairness, Race Awareness & Equality (FRAE) Fife is a partnership between service providers and Black & Minority Ethnic (BME) groups in Fife working together to overcome problems and lack of opportunities being experienced by people from BME communities.  FRAE Fife is working to increase self-confidence, knowledge and skills, thus making it easier for communities to exercise their rights as citizens and to access services which take into consideration their language, culture and tradition.
Tel:   01592 204005
Email:  Frae.Fife@fife.gov.uk
Website: Fraefife
Scottish Refugee Council: Independant advocacy services for refugees and people in the asylum process who are living in Scotland. A range of support services are available including; refugee integration, family key workers, guardianship services for young asylum seekers, destitute asylum seekers service and community engagement. Scottish Refugee Council are based in Glasgow.
Tel: 0141 2489799
Email: info@scottishrefugeecouncil.org.uk
Website: Scottish Refugee Council