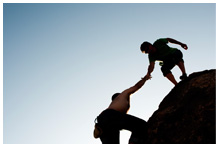 Employment
National Helplines and Websites
Careers Advice:  Provides careers information, advice and guidance to people of all ages, backgrounds and circumstances. We offer the most comprehensive and independent advice on employment, enterprise and learning opportunities to individuals, employers and the learning and guidance community.
Website: Careers Advice
Groups and Services in Fife
Fife Employability Access Trust (FEAT):  Support people who have experienced mental health problems to return to work, or other meaningful activities, through a package of options including one-to-one support, personal development training, cognitive behavioural therapy, cognitive remediation therapy, mindfulness, specific skills workshops (including rural skills development) and work experience placements.   FEAT offer a free service covering the whole of Fife.
FEAT also deliver a range of promotional activities designed to reduce stigma and discrimination around mental health, improve knowledge and understanding of mental health and more generally, wellbeing. 
Tel: 01592 759371
Email: feat@journeytowork.co.uk
Website: FEAT

Going Forth:  is an employability service, based in Dunfermline, supporting individuals to reach their goals in personal development, training, education and employment.  Going Forth deliver's Scottish Association for Mental Health's Modular Programme, consisting of a number of modules, this can be delivered in a flexible manner, tailored to suit individual needs. 
Tel: 01383 623179
Email:  goingforth@samh.org.uk
Next Steps (Fife College): Provides opportunities to identify personal skills, motivation and the knowledge required to make informed decisions. The project will provide a confidence building, job training, basic education, IT competency, literacy and life skills training programme to reflect the varied support needs of outlined participants. Next Steps supports long term unemployed people in overcoming a range of barriers to access and pursue employment, further training or education. 
Email: nextsteps@fife.ac.uk
Tel: 0844 371 0127
Women in Business: Networking is a Business Gateway initiative aimed at helping women get over the initial hurdles of starting and running a business. It will give you access to one to one advice from a business adviser and put you in touch with women who have been in the same position as you and can give you the benefit of their experiences.
Website: Women in Business