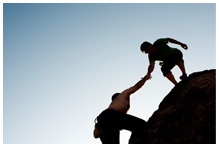 Counselling
National Helplines

Groups and Services in Fife

Talk Matters: Talk Matters, Fife offers confidential face to face counselling services for individuals over the age of 18 years of age in weekly sessions of 50 minutes. There are no restrictions to access the service however clients must be over 18 and there is a limit of 12 weeks of contact.  The service will take clients from anywhere in Fife. Only one to one services offered. The service is based in Dunfermline Town Centre.
Telephone:  01383 626064
Email:  info@talkmatters.org
Website: Talk Matters
Urban Therapy: Offers Training, and Counselling for individuals or couples with any issues with living. Offers a safe, secure and confidential environment where people can express themselves and build and experience a positive relationship.
Telephone: 01592 869994
Mobile: 07453269332 or 07514609655
Email: urbantherapy2012@gmail.com
Working Health Services Scotland: Offer free counselling to employees working for small companies (with less than 250 employees) who have no occupational health service. They are a free confidential NHS service for people who are off work or struggling to remain at work due to health issues.  Organising counselling is one aspect of their service.
Telephone: 0800 019 2211 
Website: Working Health Services Scotland