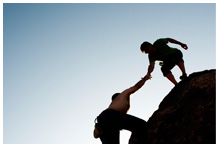 Advocacy
National Helplines
Circles Network: Circles Network is a UK wide voluntary organisation with expertise in the development of Circles of Support, Independent and Collective Advocacy, Person Centred Planning and Inclusion into the mainstream of life.
Tel:  01592 644217
Website: Circles Network
Email: info@circlesnetwork.org.uk
Groups and Services in Fife
Fife Circles: Covers three areas of Independent Advocacy: Professional, Collective and Citizen Advocacy for people across Fife. Funded by Fife Council and Fife NHS.
Tel: 01592 645360
Website: Circles Network Fife
Email: info.fife@circlesnetwork.org.uk
Include Me recruits, prepares and supports responsible local people to become Citizen Advocates in North East Fife for vulnerable adults who may have a physical or learning disability, chronic illness or mental health problem.
Citizen Advocates become a spokesperson and friend who may support their partner:
By safeguarding their partner's human rights and dignity
By spending time together, sharing activities both enjoy
By ensuring others treat their partner with respect and by considering their opinions
By helping them to become more connected with their local community.
Citizen Advocates usually provide support on a longer term basis.
Tel: 01334 656242
Website: Include Me
Email: contact@includeme.org.uk