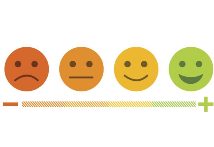 Emotional dysregulation and managing your emotions
Disclaimer: Because of the ongoing COVID-19 epidemic, we have made adapted materials from our emotion regulation group programme, The Emotional Resources Group, available from this page. Please note that these materials are designed to be used as part of a specific group programme, but individuals and services may find the materials useful for individual work.  They are free for personal or service use during the epidemic, but must not be altered or amended in any way without express permission. All copyright is retained by NHS Fife.
We intend to provide updates, including COVID-19 specific uses of the programme, via the Emotional Resources Group Twitter page: @EmoResources
This section of moodcafé is all about something called "emotion regulation".  Put simply, emotion regulation is our ability to manage our emotions. This includes our ability to:
Be aware of our emotions
Accept and tolerate unpleasant emotions
Identify specific emotions we are feeling, and tell the difference between them
Recognise and understand patterns in our emotional reactions
Manage our emotional reactions in ways that work well in the long-term.
If we develop problems in any of these areas, we sometimes call this "emotional dysregulation".  It is thought that emotional dysregulation is a big part of mental health difficulties like personality disorders, anxiety, depression and post-traumatic stress disorder. So, learning to improve the way we manage our emotions is often an important first step for many people with mental health difficulties.
This page provides information, worksheets and resources on how you can improve your emotional regulation. The materials are adapted from an evidence-based group programme called The Emotional Resources Group.  While you may be able to use this material yourself, it can sometimes be helpful to work through this material with a mental health professional.
How to use these materials:

On this page you will find a range of material resources designed to help individuals struggling to manage their emotions. We would recommend proceeding in the following order:
Part 1: Improving your emotional awareness
Please read the Emotion Regulation: Managing your emotions handout before anything else. This will explain the basics.

Following on from this you will want to use handout 1.1 Trigger Logs to learn about recording emotional reactions using the Trigger Logs. You might find the Emotion Sheet handout is helpful in finding the best words to describe your emotions when filling out the Trigger Log.
Have a look at the My Zone of Tolerance Worksheet. Try to think about how your autopilot reactions fit onto this (e.g. what do you do when you go into the red or the blue zones).  Try also to add to this any existing coping strategies you use that you already use in the blue and red zones.
Once you have got comfortable using the Trigger Logs, and if you feel able, you may want to progress to using the Trigger Log Analysis Worksheet. This will help you to deepen your understanding of your emotional reactions and start to help you think about which emotional resources from the programme might be most helpful to you.
At this stage, you might also benefit from learning about emotional awareness by reading handout 2.1 Emotional Acceptance, handout 2.2. Emotional Understanding and handout 3.3. Emotional Tolerance. We would recommend practice using the Labelling card included in handout 2.2. To practice putting words to how you feel, when they happen. This will help to build on what you are already learning from using the Trigger Logs.
Part 2: Learning new emotional resources (coping skills)
Once you have started to improve your understanding of your emotional reactions, please start to look at the different resources (coping skills) included on this page. They include:
3.1 Controlled Breathing (video guide available on moodcafe website)
3.2 Progressive Muscle Relaxation (video guide available on moodcafe website)
3.3 Grounding
4.1 Distraction
4.2 Questioning Emotions
4.3 Safe Space Imagery
5.1 Expressing Emotions
When you are practicing these resources, try to make a record of your practice using the Resources Practice Record. This will help you see your growing confidence in using the skills over time.
Part 3: Changing emotional reactions
Use handout 5.2 Trigger Management to help identify your change goals. This will help you think about what kind of trigger you needs to continue to expose yourself to, and how to cope with them, as well as those that you may not need to continue exposing yourself to.
Handout 5.3 Trigger Experiments will be one of the last skills that you use when you are really ready for change. This skill will help you expose yourself to situations that trigger you (hopefully in a small and safe way). This will provide an opportunity to prepare, plan and use your skills in a way that feels more in your control. This means that when you need to use these new coping skills when you are unexpectedly triggered, they should be easier for you to access.
Finally, when you feel that you have started to make good progress in changing your emotional reactions, you can use handout 6.1 Future Emotion Goals to help maintain your progress and develop a plan to continue using your new skills into the future.
You can get continuing updates on these materials and their use by following the twitter page of the Emotional Resources Group: @emoresources.
Other websites that provide further information on emotion regulation:
Please see links in our External Resources section

The "Centre for Clinical Interventions" website has three self-help modules called Facing your feelings. They give lots of information on learning to tolerate difficult feelings. You can work through the different sections in your own time practising the techniques. This will give you more confidence about handling your emotions and help you to enjoy life more.
The "DBT self-help" website is written by individuals who have completed a type of psychological therapy called Dialectical Behaviour Therapy . Dialectical Behaviour Therapy is a type of psychological therapy that focuses a lot on improving emotion regulation. 
The "Get Self Help" website is a resource for information and materials for therapists and those experiencing psychological difficulties. The Emotion Regulation page contains information and materials about improving emotion regulation using techniques from Dialectical Behaviour Therapy.
Page last updated by Dr. Thomas Bacon, Clinical Psychologist on 31/03/20.